Relieve nasal congestion with CLEARinse Nasal Aspirator, the SAFEST 2-in-1 aspirator on the market!
CLEARinse is an irrigation and aspirator device designed by a Pediatric Doctor to relieve nasal congestion.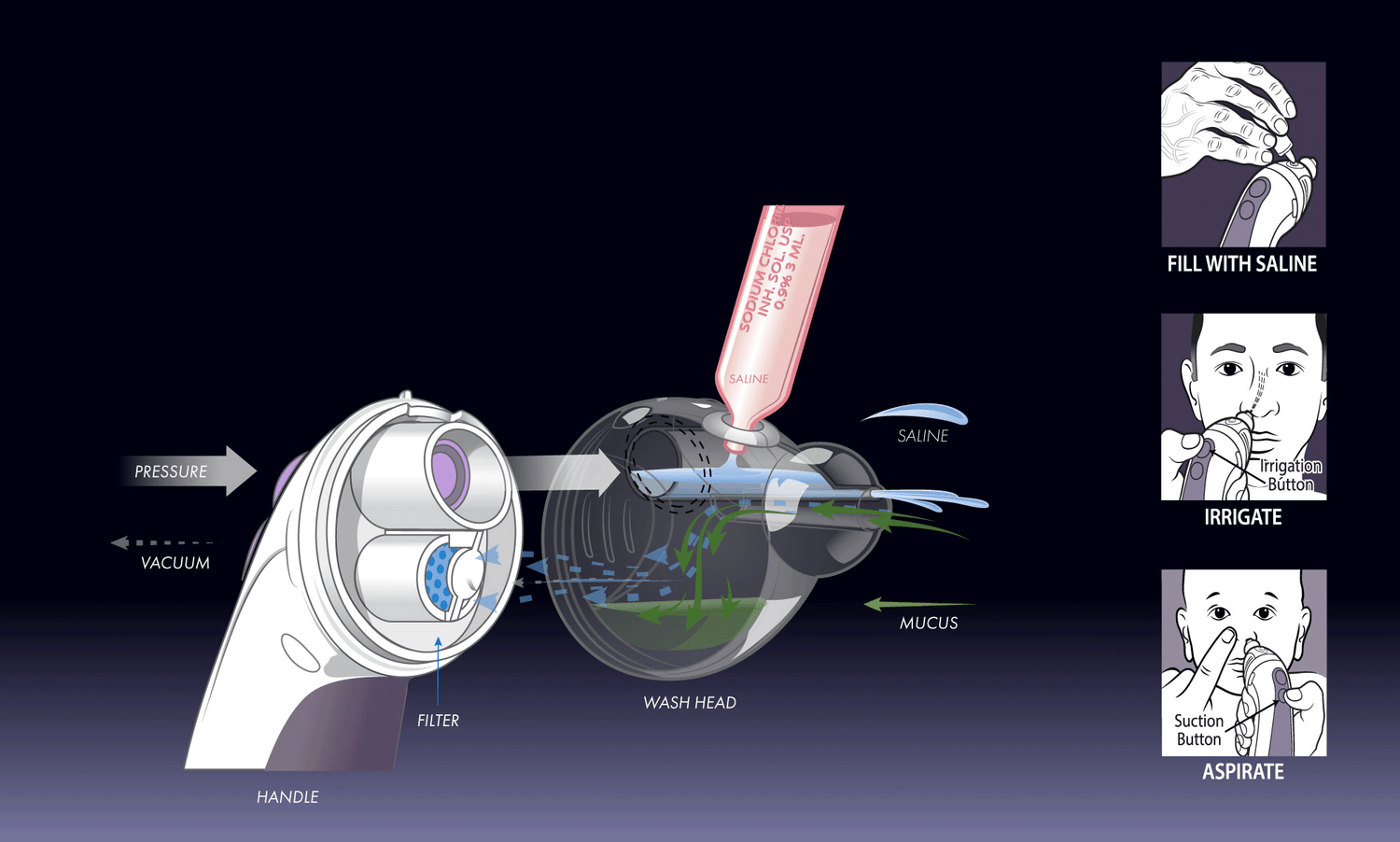 How It Works
The CLEARinse device provides safe vacuum suction to the nasal cavity to help remove hard blockages.
It's so easy a Caveman could do it!
There are many products on the market – why choose a nasal aspirator to relieve congestion? Specifically, why choose CLEARinse?
- The American Academy of Pediatrics recommends using saline to loosen congestion before suction, because it is the most effective and safe way to relieve your child's symptoms.
- Bulb syringes do not create the constant suction needed and recommended by doctors.
- Oral suction devices have variable flow, don't irrigate, and may still transmit germs despite the filters.
- CLEARinse is the only device on the consumer market that uses saline to loosen congestion before removal

Safety In Mind
CLEARinse was developed by an ER pediatrician who understands the importance of clearing a blocked nose in order for children and adults to be healthy.
Frequently Asked Questions
How To Use Clearinse Nasal Aspirator?

Add saline to your CLEARinse - Gently place CLEARinse into nostril and press the "Irrigate" button - Remove congestion
When To Use Nasal Aspirator On Newborn?

If your baby is congested, you can use CLEARinse to safely and effectively clear their nasal passages, helping them breathe easier and feel more comfortable. It's recommended to not use the product more than three times a day on a baby.
*If you believe your baby is having difficulty breathing, it's important to seek immediate medical attention.
Can A Nasal Aspirator Hurt My Baby?

CLEARinse is FDA-approved and meets the American Respiratory Council's guidelines for negative pressure and effective flow. It utilizes suction ranges that are considered safe by hospitals and pediatricians to ensure the safety of your little one during use.
Will Nasal Aspirators Clear Ears?

It's important to never use a nasal aspirator in the ears.
Can A Nasal Aspirator Cause A Nosebleed?

Yes. It's important to note that other nasal aspirator devices may not have safe suction ranges.

Also, please keep in mind that you should not use CLEARinse for more than 5 seconds at a time, if you have recently had nose surgery, if you have extreme nasal irritation, or if you push the nozzle too deep into the nose.
Can I Use My Nasal Aspirator In My Mouth?

Please do not use CLEARinse for any other purposes than nasal cleaning. The product is specifically designed for nose use only.
Why Saline For Nasal Aspirators?

CLEARinse is specifically designed to lubricate and flush out nasal passages, providing relief from nasal dryness and congestion that may be associated with seasonal allergies or other conditions.
Are CLEARinse Wash Heads BPA Free?

Absolutely, the CLEARinse Wash Heads are free from BPA.